The Guelph Nighthawks have set their roster for the 2020 CEBL Summer Series, with seven new players joining the five who remain from last year's inaugural squad.
Here's a look at the names called by Head Coach and General Manager Charles Kissi: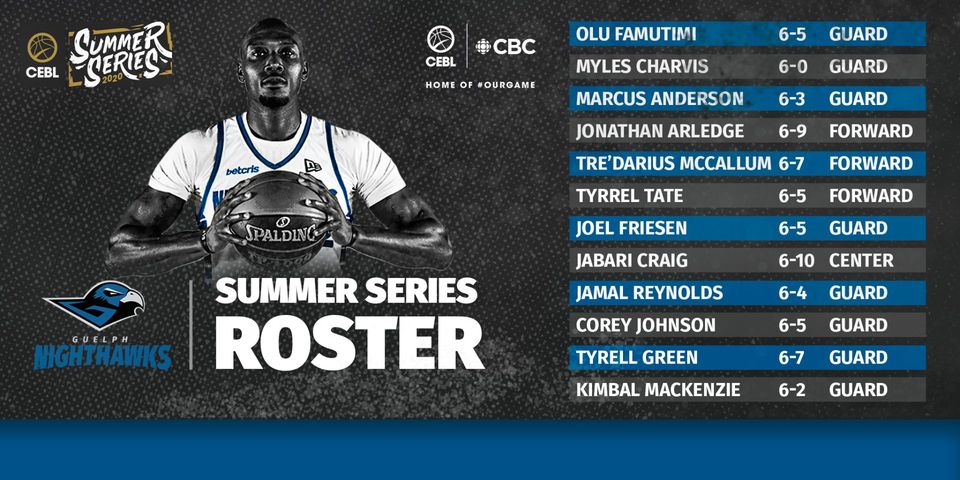 "I'm excited about the group we put together.  I think we have a good balance of rounded basketball players. Our guys have bought in and worked extremely hard over our training camp," Kissi said.
"These guys are going to have to come in and compete every day," he added. "It's that type of daily competition that will help establish the winning culture we're focused on building in this organization."
As mentioned, the roster features five members of the 2019 team, including Olu Famutimi (who I wrote about here), Myles Charvis, Jabari Craig, Jamal Reynolds and Kimbal Mackenzie.
The the new group of seven includes five Canadians (Marcus Anderson, Tyrrel Tate, Joel Friesen, Corey Johnson and Tyrell Green) and two internationally designated players (Americans Tre'Darius McCallum from the NBA G League and Jonathan Arledge from the French Pro A Jeep Elite League).
Here's a few players I'm most excited to watch:
The Nighthawks selected Marcus Anderson with the third overall selection in the 2020 CEBL – U SPORTS Draft, following a five-year championship-filled career at Carleton University. Anderson is known as one of the top defenders in the country, and was named the U SPORTS and OUA Defensive Player of the Year in 2017-18 and 2018-19. Anderson's Carleton Ravens were crowned U SPORTS National Champions in four of his five years at the Ottawa school, including the most recent 2019-20 season.
Joel Friesen was selected first overall draft pick at  the 2019 CEBL Entry Draft and signed with the Nighthawks after a stellar rookie season with the Fraser Valley Bandits. The 6-foot-5 Canadian previously starred for the University of Alberta, leading the Golden Bears to 2nd and 3rd place finishes at the USPORTS Final 8 Men's Basketball Championship.
Tyrrel Tate is a Calgary native who grew up in North Carolina. He spent three seasons in the NBA's G League, most recently in the Washington Wizards organization as a member of the Capital City Go-Go. Like Friesen, Tate was a mainstay in the lineup for the Fraser Valley Bandits in 2019, starting 18 games, scoring 14.2 points and adding 4.3 rebounds and 2.4 assists per game. He most recently played in the Mexican CIBACOPA, where averaged 17.8 points per game.
Lastly, we have American small forward Tre'Darius McCallum of the NBA G League's Windy City Bulls. As a starter this past season with the Chicago Bulls G-League affiliate, McCallum averaged 11.2 points, 3.5 rebounds and 2.8 made three-point field goals per game. There's definitely a lot to like about his game:
I've greatly enjoyed getting to know more about these players and their respective journeys that have landed them in Guelph, and I'm excited to see what they can do as a group over the next few weeks.
The CEBL Summer Series tips off on Saturday, July 25th with a nationally broadcast double-header (CBC), beginning with the Nighthawks versus the Ottawa BlackJacks at 3:50pm ET.
The Summer Series will culminate with the CEBL Championship on August 9th.